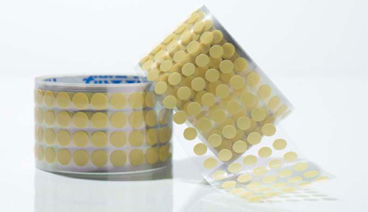 CM CONFORMAL COATING DISCS - SILICONE FREE
Perfectly suited for precison masking needs.
Manufactured from our CM300 conformal coating tape and placed on a clear liner.
Custom sizes available.
Discs must be removed the same day they are applied due to thermoset adhesive.
If you cannot remove discs same day - then try our CCD discs below.
Part Number
Size
Qty / Roll
Price / Roll
CM00125
1/8˝
2000
$17.00
CM00187
3/16˝
2000
$22.00
CM00250
1/4˝
2000
$26.00
CM00312
5/16˝
2000
$29.00
CM00375
3/8˝
2000
$34.00
CM00437
7/16˝
2000
$44.00
CM00500
1/2˝
2000
$53.00
CM00562
9/16˝
2000
$65.00
CM00625
5/8˝
1000
$36.00
CM00750
3/4˝
1000
$45.00
CCD CONFORMAL COATING DISCS - SILICONE ADHESIVE
Part Number
Size
Qty / Roll
Price / Roll
CCD00125
1/8˝
1000
$38.00
CCD00187
3/16˝
1000
$40.00
CCD00250
1/4˝
1000
$42.00
CCD00312
5/16˝
1000
$47.00
CCD00375
3/8˝
1000
$57.00
CCD00437
7/16˝
1000
$65.00
CCD00500
1/2˝
1000
$69.00
CCD00562
9/16˝
1000
$75.00
CCD00625
5/8˝
1000
$78.00
CCD00687
11/16˝
1000
$81.00
CCD00750
3/4˝
1000
$83.00
CCD00812
13/16˝
1000
$90.00
CCD00875
7/8˝
1000
$97.00
CCD00937
15/16˝
500
$65.00
CCD0010000
1˝
500
$75.00
CCD001250
1-1/4˝
500
$92.00
CCD001500
1-1/2˝
500
$112.00
CCD002000
2˝
250
$120.00